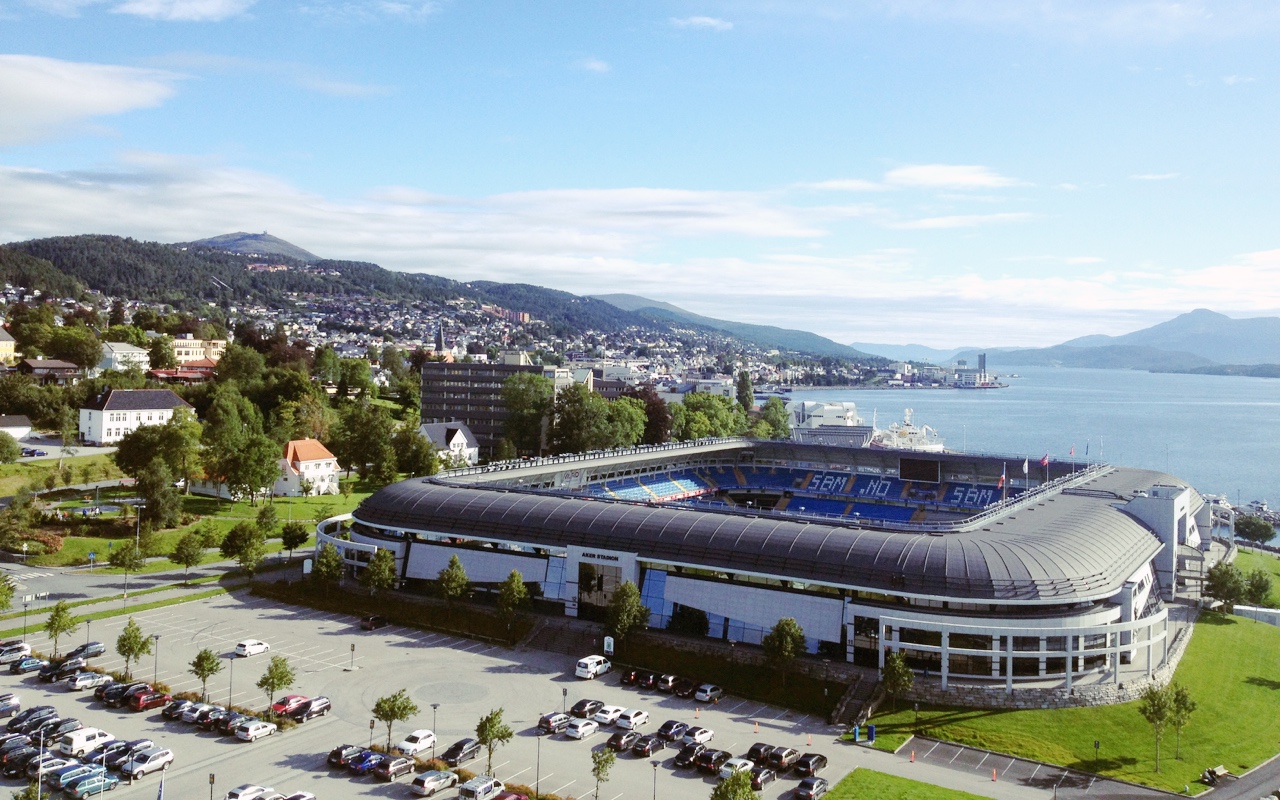 The club was founded as "International" (with the English spelling) in 1912, most likely because of the high number of visitors arriving at the town by sea, or because of the many Danes that worked at the local engine factory. The name lasted barely three years, when it was decided to adopt the name of the town due to the increasing popularity of football in neighbouring towns.
Before the 1970s, the played in the local leagues aside from one year spent in the top division in the 1957–58 season. The club returned to the top division in 1974 and shocked many by missing out on the title by just one point.
Back from the brink
For the following two decades Molde yo-yo'd between the top two divisions until they eventually hit serious economic difficulties. In 1993, businessmen Kjell Inge Røkke and Bjørn Rune Gjelsten invested, which not only saved the club, it also began the transformation of Molde FK into one of Norway's top clubs.
Trophies quickly followed, with Molde picking up their first major honour just one year later by beating Lyn 3-2 in the Norwegian Cup final. A confident Molde led by a young Ole Gunnar Solskjær challenged for the league title but didn't make it despite a 21-match unbeaten run during the 1998 season.
The second place finish earned them a place in the qualifying rounds of the 1999-2000 Champions League in which Molde recorded one of their most famous ever victories, putting four goals past CSKA Moscow, but an away-goals defeat in the third qualifying round against Mallorca meant Molde missed out on the group stages.
The golden years
Molde won their second Norwegian Cup in 2005, when they beat Lillestrøm 4–2 after extra time in the final. Prior to the club's 100th anniversary, Ole Gunnar Solskjær returned to the club as manager. Despite an inauspicious start losing 3-0 to newly promoted Sarpsborg, Solskjær steered Molde to their first league titles in 2011 and 2012.
Although the team dropped to 6th in the 2013 season, they picked up another Norwegian Cup by beating Rosenborg in the final. After Solskjær left the club for the English leagues, Tor Ole Skullerud surprised some by leading the club to their first league and cup double in 2014.
A hero returns
The form didn't last however, and Skullerud was fired the following season following a run of poor results, with Solskjær returning for his second spell in charge. Solskjær brought back his magic touch with immediate effect, leading Molde to their best ever European run in the 2015/16 Europa League. The team won through from a tough group including Fenerbahçe, Ajax and Celtic but were knocked out in the round of 32 by Sevilla, who went on to win the tournament.