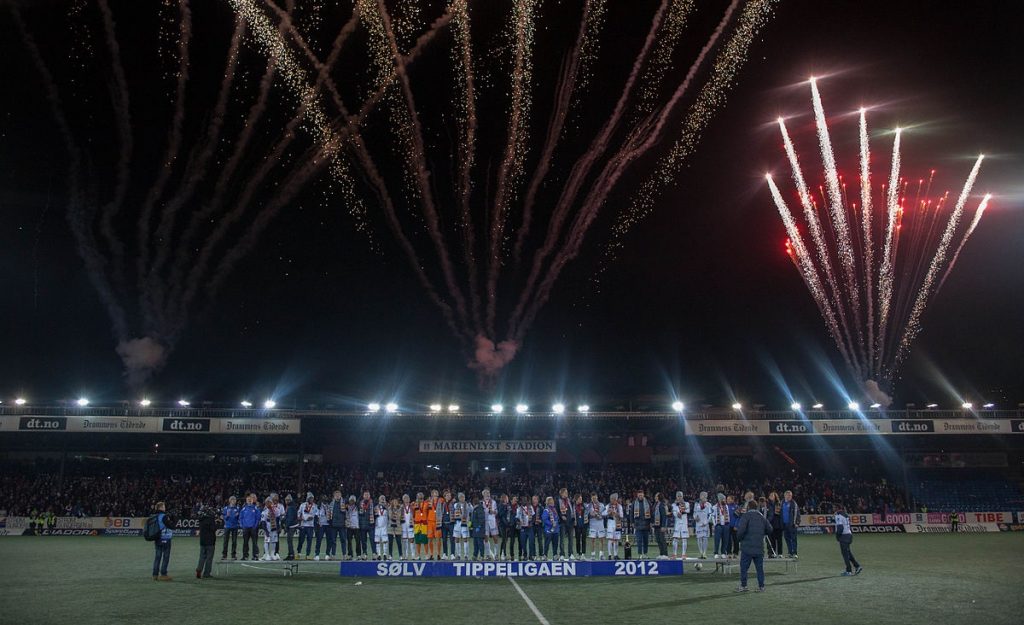 A long history with two periods of success.
The multi-sports club Strømsgodset IF was founded in February, 1907, but it took the football team until the late 1960s to find any success. Led by young Norwegian striker Steinar Pettersen, the so-called "Rødgata Boys", named after the Drammen street on which most of the team lived, won promotion three times in quick succession. The team won their first Norwegian league championship in 1970, and also lifted the Norwegian Cup in 1969, 1970, 1973.
This gave the club their first experience of major European competitions and although they failed to make it past the first round, they faced many big clubs which gave them a reputation outside of Norway for the first time. In the 1971-71 European Cup Winners' Cup, Godset won 3-2 in Nantes but the French club progressed 7-3 on aggregate. Godset's reward for their first league triumph was a European Cup tie against English league champions Arsenal, who won through 7-1 over the two games. Strømsgodset then faced Leeds United and Liverpool in successive seasons, memorably losing 11-0 at Anfield.
The glory years were over and the club struggled over the next decade before suffering relegation to the third tier of Norwegian football in 1986. Despite returning to the top flight and lifting the Norwegian Cup in 1991, Strømsgodset suffered through a turbulent decade of ups and downs. In the early 2000s, successive seasons in the second tier led to major financial problems. With the threat of bankruptcy looming large, a group of investors saved the club in 2005.
Promotion back to the top flight quickly followed, and with that came the second period of success for the club under the stewardship of new manager Ronny Deila. 24,500 people watched Godset beat Follo 2-0 to win the Norwegian Cup in 2010. Their reward was a tie against Atlético Madrid in the 2011-12 Europa League qualifying round, which the Spaniards won 4-1 on aggregate.
After finishing four points behind champions Molde in 2012, Strømsgodset went one better in 2013 and were crowned champions of Norway. The club continued to challenge for titles and finished as runners-up to Rosenborg in 2015.